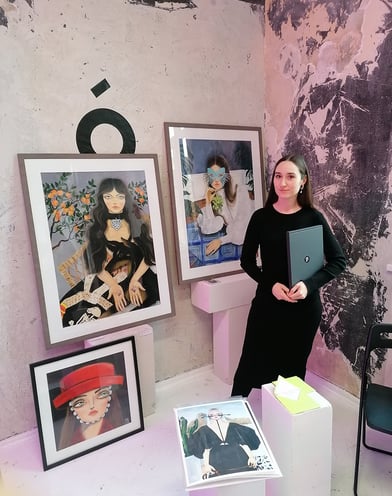 Painter, fashion illustrator currently working and living in Lithuania.
Popular culture plays a very important role in my work - fashion photographs and recognizable items become the basis of paintings, which I paraphrase and transform every time, giving them a sense of fictional, sometimes irrational, everyday life. Therefore, it is an open look at myself and the modern woman of modern times in general: through the paintings I examine the themes of female image, identity, sexuality, loss, freedom, youth, etc.

Since fashion is a big part of my art, I also create vibrant fashion illustrations, capturing iconic fashion moments from the world's biggest runways.
My paintings take quite a long time to make and I love sharing the process and the knowledge on social media. Join me on my journey today.
No part or content of this site may be reproduced, distributed, or otherwise used, without the prior written permission of Martyna Jan.